After buying my SLR my aim was to get a 500mm lens. However, the cost of these things are prohibitive and even the second hand ones sell for well over £300 irrespective of the make. However there were several cheap options though in the form of mirror lenses. A mirror lens or a catadioptric lens works with the help of mirrors to reflect light within its body as shown in the picture below: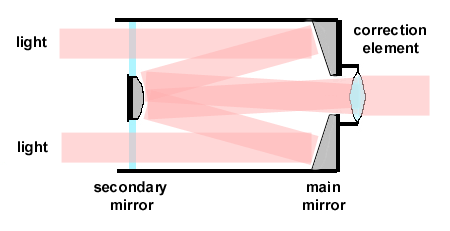 This results in the size of the lens becoming extremely short and light. There are however several drawbacks
1. Although length is reduced, the lens may be broader when compared to a normal lens of the same focal length.
2. The aperture of the lens is fixed (f8 for 500mm) and is not changeable.
3. Out of focus areas, especially those that have a sharp contrast produce doughnut shaped "Bokehs" (which may or may not be desirable)
4. Most mirror lenses cannot be used with autofocus and have to be manually focused, making it a REALLY hard job to get good pictures.
Although all these factors were on my mind I knew of the existence of a hidden gem out there, one that is lost to most of the photographers  out there because they dont own a Sony SLR (or Minolta) – the Minolta 500mm f8 reflex lens – the worlds only auto focus mirror lens!  This lens is a Mirror lens initially made by Minolta and now re-badged and sold as the Sony SAL-500F80.
I`d been keeping track of its availability on ebay and although I lost the bid for one on my first attempt, found another one of these gems and slurped it up for less than half the price of a new one!
I waited a week for the item to arrive and when it finally did, was happy to find it in top shape inclusive of the cover and lens cap.
It originally ships with two filters, a normal one and a neutral density filter, which can be slotted in to the back of the lens. The picture below shows the filter half out of its slot.
The lens itself felt light but firm and not too light. It was broad, but the broadness only made it a pleasure to hold.
…and boy does my camera look good attached to it!
Now that I was the proud owner of a desperately needed 500 mm lens, all that was left was to go out and use it in the field! Thats just what I did and here are the results of the day:
My first bird of the day was this grey heron, sitting at east a 100 mts away, with the sun shining the wrong way to get me any detail.
I tried to sneak up as close as it would allow me, but I instantly learnt that the lens itself was not a great light gatherer.
In the end I was left with these silhouetted images.
The next bird though gave me simply superb results and I was left with that warm feeling in my heart for having gone for these lens
A blackcap, my first pictures of it that's worth showing. Oh boy, I just love the way these have turned out.
the light was perfect shining into the bird from behind me. The bird itself didnt expose itself very long,
altogether, it must have sat in this exposed branch for less than 30 seconds,
My camera was in auto focus, a half press, checked the focus and fired away. On hearing the camera clicks, you can see the bird looking at me, before flying away, i had got my shots of the day!
I wasn't finished though, Look at  this one! a magpie in  flight. I must say the lens is not very good for birds in flight, its slow to auto focus and most of my manual focus shots were out of focus, but this one was great. I can even see the metallic green reflective sheen on the birds tail!
With magpies being so common, i was bound to run into another one, and this happened at rather close quarters, the bird flew to a nearby bush and I quickly caught a few shots:
The greatest joy of the Minolta f8 is that you can actually single out a bird through the viewfinder among the foliage of the bushes, something that is hard to do with the naked eye.
Once you have the bird under surveillance, like as in a binocular, you just have to wait for the right moment for it to fully expose itself before you fire away.
One has to realise that these tiny birds are about the size of my thumb!
I`m guessing these are willow warblers. There seemed to be quite a few out there, although it was rather hard to get one fully exposed.
As usual, the kestrels were out there today too, but I`m saving most of the pictures for another post that I`m planning. Anyhow, here`s one that illustrates how good the lens is to pick out a bird hidden amidst the tree foliage.
I had wound up for the day when I came across these carrion crows, and I felt tempted to bring out my gear and shoot a few more. This is my most sinister looking shot:
Immediately afterwards, I saw a flock of Tits in a nearby tree and spotted some long-tailed tits. I had been reading somewhere about how they are notoriously hard to photograph and I decided to try my luck on them:
Yes they are quite a handful, never staying still, but I think the lens and camera did a decent job to get some decent pictures.
To summarise , I`d say that the lens is one superb piece of glass (well, mirror!) and surprisingly, I barely got any doughnut shaped bokehs at all! the lens did struggle with auto focus at times making me think that manual focus was a better option for birds in flight, however, manual focus is incredibly difficult at this focal length and with the time available to shoot birds. The light gathering ability of the lens is not very good. On the whole, if you are shooting with this lens, you are bound to get a good number of out of focus and dark shots, but you`ll definitely get some "keepers" and boy, are they worth keeping!